Employee Hotlines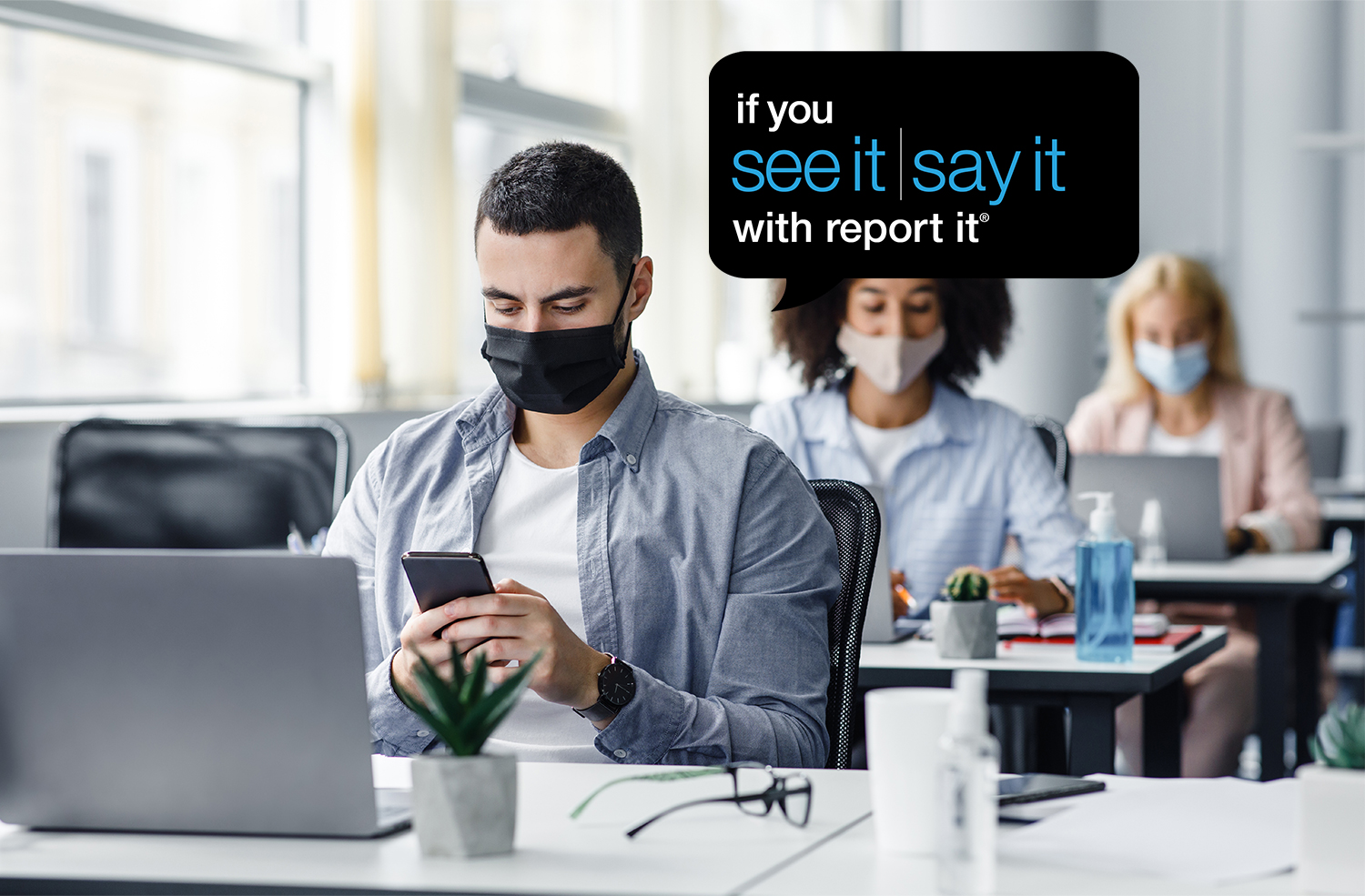 Anonymous Employee Hotline App
The report It® Ethics and Compliance Reporting App empowers your employees to anonymously and confidentially "Say Something when they See Something". Developed to help employers prevent unethical, abusive, and unprofessional behavior, illegal activity, and code of conduct violations with early detection and intervention. The report It® anonymous employee hotline can also support your efforts to reduce and eliminate fraud, waste and abuse, and potentially unsafe working conditions. report It® supports reporting compliance that may be required under COVID-19 safety protocols and regulations.
report it® provides a simple and easy-to-use anonymous employee hotline platform that allows employees to escalate concerns directly to designated report recipients, anonymously, confidently, and discreetly, in real-time. Our intuitive and user friendly user interface makes reporting easy.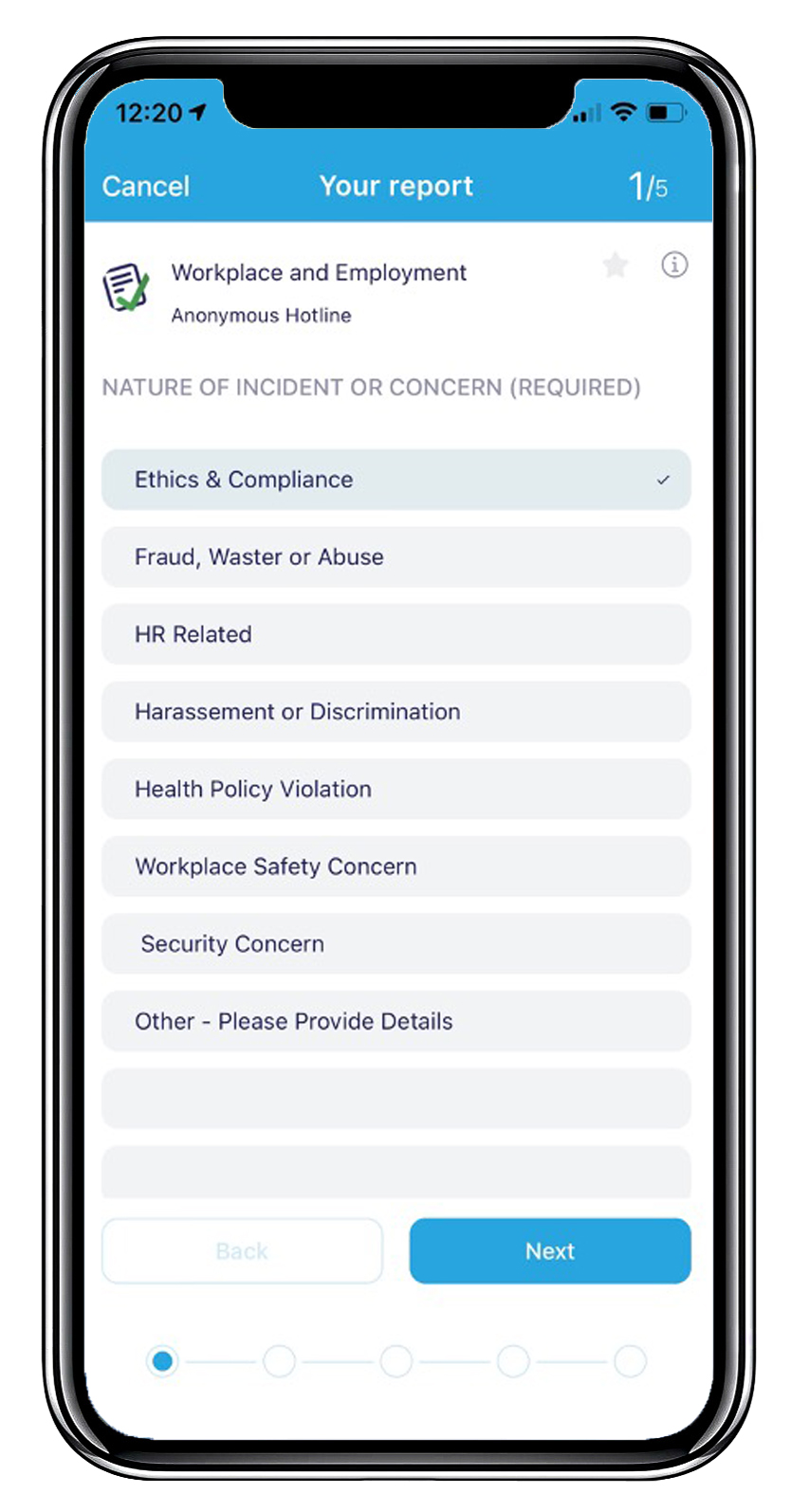 Help Your Employees make a Difference
With over 20 years of experience in providing world-class solutions, report It® can help you create transparency and an open-door environment that meets your unique needs and requirements. Your employees should have the capability to report concerns quickly, easily, and anonymously to management without fear of retaliation. report It® helps you resolve minor issues before they become major problems.
report it® makes it easy for users to create a report and attach photos, video, and location data with the assurance that the information is anonymously and confidentially escalated to the proper authority in real time. With the report it® cloud-based report management tools, report information can then be viewed and managed from anywhere. report it® partners with Amazon Web Services (AWS) to make sure your data is always safely and secure stored in redundant and encrypted servers.
Features
Android, iOS and Web reporting apps
24/7 Phone reporting options
Text based reporting

QR Code reporting

Multi-language reporting
Anonymous, Confidential, and discreet
Redundant & secure data management
Low cost & simple to implement
Cloud base report management tools
Third-Party integrations
Push Notification option
Panic Alarm option
Benefits
Foster a culture of diversity and inclusion

Lower operating costs

Support COVID-19 requirements

Prevent fraud and corruption
Improve compliance with company policies
Prevent harassment and discrimination claims
Reduce employee turnover
Improve workplace health & safety
Avoid third-party involvement
Plan Includes:
Android, iOS and Web reporting Apps
Text-a-Report capability
QR Code reporting
Multi-Language reporting
Include photos, video or documents with reports
Real-Time report notifications
Cloud-Based report management tools
Anonymity for employees
End-to-End data encryption
Secure Data Integration
Access to community resources
Program awareness materials
ADP Payroll Integration Option
Up to 3 designated report recipients
Plan Includes:
All Standard Edition Features plus the following
Customizable questionnaire and workflow
Anonymous 2-way messaging
Case management module
Report sharing
Geo-Intelligent reporting options
Multi-Location reporting
Intelligent report routing by incident type or sub-location
Push Notification feature
Panic Alarm feature
Up to 10 designated report recipients
Pro Edition with Toll-Free Phone
Plan Includes:
All Pro Edition Features plus the following
24/7/365 Toll-Free telephone reporting with live operators